Designing & Installing Battery-Electric Systems for Multiple Applications
Jamie Marley – MD, Marine Electrification Solutions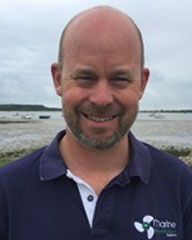 After serving his Electrical Apprenticeship, Jamie began his marine career at boat builder North Shore Yachts on the UK's South Coast. With a desire to travel, he used his skills in the Mediterranean as a flotilla engineer and superyacht engineer.
Returning to the UK enabled him to hone his production, design and leadership skills at Sunseeker, Discovery Yachts and Marley Marine Electrical. Following the completion of his first hybrid project, Jamie recognised that electric/hybrid propulsion was the way forward for the marine industry.
Jamie joined Torqeedo and relocated to Munich, Germany for two years. His time with Torqeedo saw him travel worldwide as Senior Field Service Engineer, before taking up a position as Project Sales Manager, covering Netherlands, Iceland, Turkey, UAE and UK.
Since the inception of Marine Electrification Solutions in September 2018, Jamie has consulted for major marine brands in the UK, Netherlands, Germany, Australia and US.

Download NEXT GEN Workshops October 2021 Presentation (password required)