About NEXT GEN
NEXT GEN provides an independent platform for maritime organisations to address burning issues and share knowledge.
NEXT GEN brings together an international group of experts to identify problems and solutions for the sub IMO / sub 24 metre sector.
NEXT GEN forum enables people with genuine experience to 'pass it on' - helping to maintain and improve best practice across all maritime sectors.
NEXT GEN Conferences & Workshops

NEXT GEN programmes build on our experience of running hundreds of specialist training courses focussed on viable solutions.

NEXT GEN conferences and workshops bring together a unique mix of end-user organisations, solution providers and maritime expertise.

NEXT GEN sessions and dynamic panel discussions offer unique opportunities to learn how to improve safety and efficiency on vessels.

This knowledge helps to shape decisions that lead to improvements for in-service vessels and procurement of next generation platforms and systems.

Support for NEXT GEN events has been excellent from end-user organisations, maritime legislators and the marine industry worldwide.


NEXT GEN Workshop Lead - John Haynes
Associate Fellow of The Nautical Institute

Fellow of RINA
- Royal Institute of Naval Architects

Commercial Yachtmaster Ocean Advanced Powerboat Instructor
Subject matter expertise includes 30 years professional sector training, consultancy and strategic product development. Working with over 100 organisations including military, border force, coastguard, police, SAR, commercial operators, ports & harbours, designers, legislators, equipment manufacturers and boat builders.

Shaped By Experience
John was in the 1979 Fastnet Race when Storm Force 10 struck the fleet of 300 boats between Lands End and Southern Ireland. Rescue efforts were the largest at sea since World War Two. Fifteen people died - this was a seminal disaster which resulted in a major rethink of safety for small craft.
The experience shaped his approach to activities on the water - including the need for relevant training, effective safety planning and over engineering of all equipment to prevent a single point of failure at sea.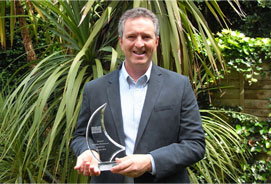 Seawork Maritime Professional of the Year
The nomination said, 'John Haynes is a thought leader in the high speed craft, shock mitigation and hybrid marine power sectors with a unique ability to engage and create momentum globally. John has a passion for these sectors, rooted in his own maritime background. He has a genuine vision of improving people's lives on boats. His work with over 100 organisations is testament to this.'
The award celebrates exemplary individuals within the maritime sector. Presenting the award in front of hundreds of industry professionals at The Vestry in Southampton, BBC News presenter Laura Trant said, 'John Haynes has been voted Maritime Professional of the Year for his passion, innovation and dedication to the marine industry'.