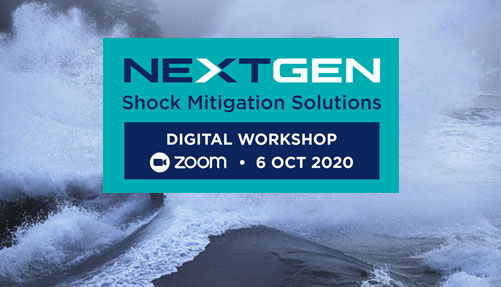 Thank you for all your efforts. I am very positive and I think the digital format was a great success. The workshop was very interesting and almost flawless. Well done!
Floriaan Bijleveld - Shock Protection Engineer, NL Ministry of Defense
Thanks for the invite to this. It worked very well via ZOOM and John was a great master of ceremonies. I particularly liked the presentations by Don Cockrill and John McCorquodale. Both would make good after dinner speakers.
Martin Birchenough - Sea Fisheries Enforcement Manager, Isle of Man
I thought the workshop went very well. It was clear that a lot of planning went into it ensuring that presenters were prepared and their topics relevant. I thought that John did a great job in orchestrating the call and ensuring conversation was kept focused and friendly. I also liked the enforcement of keeping videos and microphones off when not speaking. I did think the event was useful for me and would call in again via ZOOM.
Rob Adsett - Project Engineer Boats Team, MoD

NEXT GEN overcame the COVID restrictions by delivering a well planned and coordinated ZOOM meeting. Of course it was disappointing not to be in the same room and chatting in the margins but this was a very effective alternative. As always, the presenters were knowledgable, interesting and obviously well prepared.
Jon Lewis - Maritime Command, UK Border Force
Thank you for the work you put into yesterday's conference. I managed to stay online most of the day and despite needing to dip in and out, it was a worthwhile day. I can't wait to get back to some form of face to face events as the networking element was sorely missed, but you did a sterling job making this work and think you did so as successfully as a virtual event could be.
Tom Bettle - Managing Director, Rafnar UK

It was a pleasure to spend so much time going very precisely into the subject that interests us all. We have little opportunity to have so many specialists gathered at the same time, in the same place in a process of total sharing. This allows us to lift our heads and realize the magnitude of the task that must be accomplished, to see that we are not alone, and that together we can really advance the navy of tomorrow.
Bertrand Castelnerac - R&D Director & Coxswain, SEAir

Congratulations! That was a difficult one to pull together and pull off. You managed to hold the audience together for the whole day online. That alone is a major achievement.
Graham Brown - Managing Director, Sea Sure

Very interesting and useful workshop. So pleased you were able to pull it together in the end as a online workshop and appreciate all the hard work which must have gone into getting this sorted at such short notice. Good selection of interesting and knowledgeable speakers/presenters. John thank you for your expert 'chairing' to keep things on time and on track, it makes such a difference.
Jon Butler - Head of Operations, Eastern IFCA

One word - Brilliant! All the hard work that Claire and John as usual put into the preparation has once again paid off with an excellent event.
Don Cockrill - Secretary General, UK Maritime Pilots Association

This was a pretty well organised session, topics were interesting. I did manage to attend most of the sessions but had other obligations throughout the day. It was easy to leave and come back as needed. For me the biggest issue was the time zone but an early morning is always good - it allows to do more in a day!! That was a great opportunity to follow those discussions - that would not be possible if this would have been in person.
International attendee

My experience to attend the workshop via zoom from abroad was very interesting and more easy than travel from Italy. As with past editions of NEXT GEN the event was very well managed and full of great professionals .
Giuseppe Raffa - Messina Pilots, Italy

Due to covid-19 the event was online, but nevertheless it was organised very smoothly. Overall I really liked the sessions. Some things were a bit less relevant for us as a company but those were also needed to make it a complete story.
Roy Kok - Founder & CEO, Smart-Ship B.V.
I would like to congratulate you for the good and professional online event. The session was conducted nicely, and it was obvious the good relation of John with the speakers, which proves to be essential in these type of events.
Jaime Perez Martinez - Technical Manager, RINA

Your recent NEXT GEN event was well run and very informative. Thank you.
Ben Bradley-Watson - New Business Manager, Berthon Boat Company

I thought the first virtual NEXT GEN conference went very well, and proves that we can still have informative and collaborative sessions in these crazy times. The format worked, and everybody seemed engaged during the whole day. As a presenter I felt that we still got good value, especially with the increased reach that being virtual gave us. There were people attending that would have been unlikely to come to Southampton for one day. Overall, I see the commercial benefit of the day being on a par with the good old days. Looking forward to the next one.
James Glover - Managing Director, Dyena

This was a great initiative to bring together all these professionals from different countries around the same table on the same day in this challenging time. Well done! The NEXT GEN Digital Version 1 was a great success. It has been a beneficial compromise for the industry in a time when all events are cancelled or postponed. The presentations and the discussions were very interesting. All went smooth and nice: the organisation, the agenda, the timing, the friendly atmosphere, almost as if we were all at the Grand Harbour in Southampton.
Christine Perrot Cornu - Head of Sales & Business Development, SEAir
Very relevant and important information was shared on current shock mitigating technologies. Nice job and all presentations were engaging. Having attended 3 days of in-person NEXT GEN workshops in 2019 this was equally well organized and executed via ZOOM. The future for us all may hold many more video conferences - and you have let us know that it can be done well!
Renée St. Lawrence - Skydex, US

Clarification from Maritime & Coastguard Agency (MCA)
The MCA wishes to clarify that MGN 446(M) is still current and the exemptions process is available for use, in accordance with legislation. However, the MCA encourages ship owners to focus on identifying the risks to seafarers from whole body vibration and taking measures to remove or mitigate the impacts, so as to reduce the risk as low as reasonably practicable.

For Information about NEXT GEN Events Contact